ABOUT us
Brigade is one of India's leading developers with over three decades of experience in building positive experiences and also transforming the skyline of cities in South India namely Bangalore, Mysore, Mangalore, Hyderabad, Chennai, Kochi with its developments across Residential, Offices, Retail, Hospitality & Education sectors.
Brigade's residential portfolio includes penthouses, villas, premium residences, luxury apartments, value homes, independent living for seniors and award winning fully integrated lifestyle enclaves and townships. Brigade is among the few developers who also enjoy a reputation of developing Grade A commercial properties. The World Trade Center- Bangalore & Kochi, Software and IT parks, SEZs and stand- alone offices have top international clients operating from them. Brigade's retail projects include Orion Mall at Brigade Gateway, Orion East in Banaswadi and the upcoming Orion OMR. Brigade's hospitality offerings include star hotels across South India, recreational clubs and convention centres, Celebrations Catering and Events and The Baking Company, a unique patisserie focusing on freshly baked healthy products in Bangalore. Brigade has completed over 250 buildings amounting to 40 million sq. ft in residential, offices, retail and hospitality sectors across 7 cities.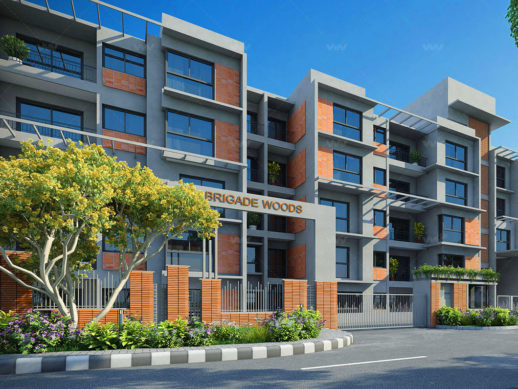 The Group has been socially responsible and has vastly contributed to society by redeveloping the Sangolli Rayanna Park and the Shri Nadapraphu Kempegowda Playground in Malleswaram, Bangalore, constructing a Skywalk across Dr. Rajkumar Road and rejuvenation of Sitharampalya lake in Whitefield. The latest initiative-The Indian Music Experience (IME)—a monumental and philanthropic initiative of Brigade Group is conceived to give back to the society and to sensitise the present generation to the rich culture of Indian music. This responsible attitude and innovative mind-set combined with uncompromising quality of the projects over the years has created a reputed brand.
The Group has also been consistently ranked among the 100 Best Places to Work in India for 8 years in a row. The awards and recognition received by the Group across various categories serve as a testimony to Brigade as a proven brand, well established and trustworthy coupled with excellent customer service and impeccable build quality.
FOUNDER
MR M.R. JAISHANKAR
CMD
"Much has happened since the publication of the last issue of Brigade Insight - Indian economy has become stronger with the positive impact of GST taking shape, slowly but surely; Stock indices have zoomed with Sensex touching 38,000; BJP was not able to form the government in Karnataka in spite of being the party to win the largest number of seats; Passing away of the doyen of Tamil Nadu politics Sri Karunanidhi; Brigade launching a flurry of projects et al.
Unfortunately, the international scene is quite uncertain with Oil prices going up and the unpredictable approach of the US President resulting in a trade war between the United States & China, the world's two largest economies. This has brought in a lot of uncertainty to the external macro environment though, the United  States economy,  which contributes more than 25% to the world's GDP, is doing well. The resultant impact on our currency is negative as the Indian Rupee has weakened by 7% and will affect the country's balance of payments.
Though the Indian manufacturing sector is showing good order books, companies are declaring better financial results and though the Monsoon is by & large good, there is a certain amount of anxiety amongst trade and industry due to interest rates beginning to go up, apart from the uncertainty of impending parliamentary elections in early 2019.
After three years of a recessionary trend in real estate, the sector seems to be on the recovery path. With not many new project launches during the last two years, unsold numbers have come down and prices have stabilised. With the implementation of RERA, much-needed customer confidence and positive sentiment are returning back. The Central government is doing its bit by increasing the thrust on infrastructure improvement. The spoilsport can be rising home loan interest rates.
In this background, Brigade has launched a number of new projects and is gearing up to launch several more in Bengaluru,  Chennai, Hyderabad & Mysuru. With 'Parkside' as the brand for 'Independent Living for Seniors', we are offering well thought out residences in all four directions of Bangalore. We are back to offering Ownership Offices for investment, lease or for own use. In fact, the first three projects of Brigade in the late 80s & the early 90s were all commercial projects. We have also started the concept of 'Managed Residences' in our villa projects in Devanahalli - Brigade Atmosphere & Brigade Orchards. With 'Ease of Occupation' for the customer in mind, we have introduced  'Brigade Plus' initiative offering a host of conveniences. With the launch of 'One Brigade App', our customers can avail a number of benefits.
With the commencement of the festival season, business & investor sentiments will improve. I seek the continued goodwill and patronage of our customers."
—Jaishankar CMD, Brigade.
CONTACT HIS OFFICE
Call         +91-80-40467666
BANGALORE (HEADQUARTERS)
Brigade Enterprises Limited, 29th & 30th Floors,
World Trade Center, Brigade Gateway Campus,
26/1, Dr Rajkumar Road, Malleswaram-Rajajinagar,
Bangalore-560 055, Karnataka, India.
Tel: +91 80 4137 9200
Fax: +91 80 2221 0784